All Welcome Guide to inclusive, accessible and sustainable events
---
BAM and the Chartered ABS are committed to promoting equality, diversity, inclusion and respect as core values and as part of our independent strategies.
---
The Guide can be downloaded HERE
The first strategic aim in our BAM2024 Strategy is: 'To put Equality, Diversity and Inclusion (EDI) 'best practice' in place across BAMs portfolio of activities." As part of doing this we have committed to 'help best practice spread across the sector to influence more widely.'
Professor Martyna Sliwa, BAM Vice Chair for EDI, has worked with Dr Scott Taylor, Professor Melissa Tyler, and Dr Shalini Vohra, to produce a guide to support our communities in improving inclusion and sustainability. The authors write in the Foreword to the Guide: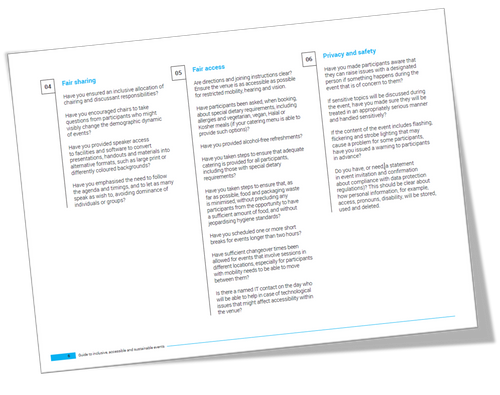 "As part of these commitments and initiatives, we recognise all events should strive to be as inclusive, accessible and sustainable as possible. We aspire for our events to reflect and showcase the diversity of the management community and the full breadth of our research, teaching and professional expertise. It is vital that people of all backgrounds, career stages and paths feel included and able to participate in events and feel themselves and their contributions to be recognised and valued.
We have developed this guide by drawing on examples of best practice from across the higher education sector and beyond, to support members and associates who are involved in organising, hosting and participating in events. These can be meetings, workshops, or conferences, either online or in person.
The premise of the guide is that equality, diversity inclusion and respect are not things that can be 'achieved' or 'ticked off' once and for all, but are values that we should continually work towards.
The guide builds on work done by other professional associations and in specific schools, especially Essex Business School, University of Essex, UK. We hope it is useful, and welcome feedback. We also hope that this will be the first iteration of a guide that develops in the future, as practice and research progress. Both its practicalities and its underlying philosophy are open to change, as our society changes around us. If you have any suggestions, based on experience or on knowledge of this area, we would be very happy to hear from you.
In future, we hope that the measure of a successful event for our community will be it meets its direct objectives, providing a forum for discussing specific issues, and that it has also actively promoted equality, diversity, inclusion and respect."
The Guide can be downloaded HERE