Award Winners Announced at the BAM2022 Conference
The British Academy of Management made a series of awards during our annual conference to celebrate the outstanding contribution made by business and management scholars, not just through their research but also the important contributions to society they have made.
As part of our hybrid conference structure we streamed and recorded the Awards Ceremony, which may be viewed here from 1h10m onwards.
Richard Whipp Lifetime Achievement Award
The Richard Whipp Lifetime Achievement Award, given in memory of Professor Richard Whipp, an outstanding scholar in the field of business and management and former Chair of BAM, was given this year to Professor Paul Sparrow, of Lancaster University Management School for his internationally recognised work on HR Strategy, global resourcing and talent management.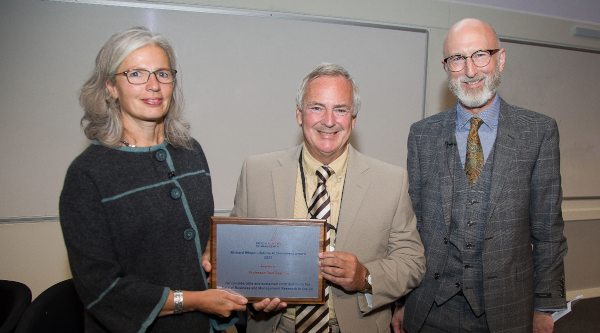 Companionships
Eight people were made Companions of BAM, a way in which our community honours those who have provided leadership in management practice or thought, or development of the field and its diverse community
The eight are: Gordon Marsden, former MP and founder of the Lifelong Learning Commission and co-founder of the Right to Learn campaign; Nick Hillman, Director of the research body the Higher Education Policy Institute (HEPI); Amanda Blanc, CEO of Aviva, who has given invaluable support to women in business; and Andrew Jack, Global Education Editor at the Financial Times, for his support for business schools and his work on wellbeing in the workplace.
Also receiving Companionships were: Diana Beech, CEO of London Higher, the membership organisation for universities in the capital, for her support for higher education; Juergen Meier, for his work on behalf of the LGBT+ community in the workplace; Mark Leach, founder and Editor in Chief of the policy forum WonkHE, for his work in higher education; Rosie Tressler, CEO of Student Mind, the student mental health charity.
Fellowships
We also awarded Fellowships to recognise leading scholars in our community, who have a strong international profile of high-quality research and who have made a significant contribution to the wellbeing of BAM.
This year we welcomed eight new Fellows: Emma Bell is Professor of Organisation and Leadership at the Open University, and former BAM co-Vice Chair for Research and Publications; Dermot Breslin is Professor of Organisational Behaviour at Rennes School of Business and co-Editor in Chief of our International Journal of Management Reviews; Patricia Lewis is Professor of Management at Kent Business School; Savvas Papagiannidis is the David Goldman Professor of Innovation and Enterprise at Newcastle University Business School and current BAM co-Vice Chair for Special Interest Groups; Martyna Śliwa is Professor of Business Ethics and Organisation Studies at the Durham University Business School and BAM's Vice Chair for Equality, Diversity, Inclusion and Respect; Palie Smart is Professor in Operations Management and Head of the School of Management at the University of Bristol and a member of BAM Council; Carol Woodhams is Professor of Human Resource Management at the University of Surrey; and Douglas Cumming is De Santis Distinguished Professor of Finance and Entrepreneurship at Florida Atlantic University and co-Editor in Chief of our British Journal of Management.
Medals
As part of our 30th anniversary celebrations a few years ago, we created a set of Medals to mark important contributions made by our members and others. Nine were given this year:
The Cooper Medal for Outstanding Leadership and Contribution was given to Professor Peter McKiernan of Strathclyde University; Professor Howard Thomas, Emeritus Professor and former Business School Dean at Singapore Management University; and Professor Robert Blackburn of the University of Liverpool.
The BAM Medal for Leadership was given to Dr Anne Clare Gillon, of the University of the West of Scotland; Professor Maureen Meadows of Coventry University; and Professor Nicholas O'Regan of Aston University.
The BAM Medal for Knowledge Development was given to Professor Lisa Anderson of the University of Liverpool, and to Professor Mark Loon of Northumbria University.
The BAM Medal for Research was given to Professor Florian Bauer, of Lancaster University Management School.
Education Practice Award
The BAM Education Practice Award competition was established in 2016 to recognise individual and team initiatives that enhance management learning and education.
The winner of the Experienced Practitioner category this year was Dr Mike Kennard, of the University of Manchester, for his project 'Developing and delivering a new Innovation and Entrepreneurship unit for the MSc Management Practice Senior Leader Master's Degree Apprenticeship programme'. The winner of the Early Career category was Dr Eleni Meletiadou, of London Metropolitan University, for her project entitled 'Learning about digital business management and emerging technologies with digital stories, translanguaging and inclusive collaborative group assessment: engaging students as partners in learning and assessment, decolonising the curriculum, and promoting creativity and digital learning'.
Mike Kennard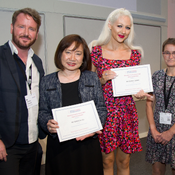 Rebecca Liu and Sophie James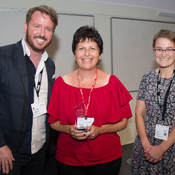 Eleni Meletiadou
BJM and IJMR Best Reviewer
We established Best Reviewer awards to recognise outstanding service as a reviewer for our journals. The winner of the British Journal of Management Best Reviewer was Giulio Nardella, and for our International Journal of Management Reviews, it was Rudolph Sinkovics.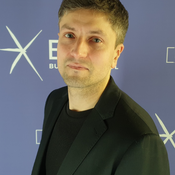 Giulio Nardella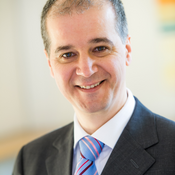 Rudolph Sinkovics
We also remembered leading members of our community who have died since last Conference. Professor Peter Grinyer was a leading light in management research and an early member of BAM. He founded and chaired what is now the University of St Andrews School of Management and served as the University's Vice Principal and Acting Principal. He is remembered by many as a warm-hearted and friendly man whose acute intellectual curiosity and ability inspired those around him.
Professor Keith Glaister was Professor of International Business at Leeds University Business School, having previously been Associate Dean and Professor of International Business at Warwick Business School. He was elected as a BAM Fellow in 2011, and served on the Dean's Group and BAM Council for many years and was Conference Chair for BAM 2017. He is remembered as an effective and supportive senior leader who always had time for students and junior faculty.
In introducing the award ceremony our Chair, Professor Katy Mason, said: "An important part of our work is the public recognition of excellence and contribution. So we are delighted to be able to announce these awards today and celebrate the excellence and contribution made by members of our community in different ways and at different levels."