First volume in BAM's new Management Impact book series now published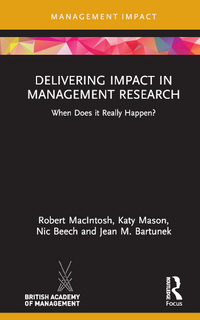 This exciting new series published by Routledge on the topic of Management Impact, looks at the impact of management research and how its impact into management practice can be difficult to monitor and measure.
The first book of the series titled 'Delivering Impact in Management in Management Research: when does it really happen? authored by Professor Robert MacIntosh, Chair of the Chartered Association of Business Schools, Professor Katy Mason FBAM, Chair, British Academy of Management, Professor Nic Beech, President, British Academy of Management and Professor Jean Bartunek FBAM, sets out a detailed and nuanced analysis of how research impact is best delivered in practice. Starting with a rich conceptualisation, the authors move on to discuss models through which meaningful impact is framed and delivered. The book explains processes, skills and approaches to impact, along with examples and insights into potential pitfalls and solutions.
The book is now available to purchase both in hard copy and electronically. BAM members will be able to purchase the book at a discounted fee. Further details will be circulated via email!
Authors
.