Conference
---
The BAM2021 Conference will take place online from the 31st August - 3rd September
---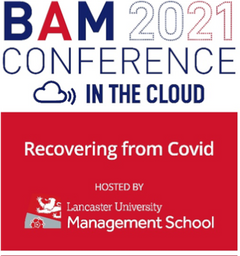 Call for Papers
The call for submissions for the 35th Annual British Academy of Management conference is now available online. The paper submission site will open on the 15th January and the deadline to submit papers is Friday 19th March 23.59 BST.
Key dates*:
Paper submission site opens (15th January)
Deadline to submit paper (19th March)
Review process starts (26th March)
Paper acceptance notification (14th May)
Deadline for at least ONE author to register for the Conference (11th June)
Final paper upload (30th June)
Asynchronous** paper presentation (optional) deadline (16th July)
You can view each call for submissions from the 30 Tracks via the link below along with the Paper Submission Guidelines and Frequently Asked Questions (FAQ).
2. BAM2021 Paper Submission Guidelines (PDF downloadable)
3. BAM2021 FAQ (PDF downloadable)


Format
The BAM2021 Conference will include live paper presentations consisting of both full and developmental papers*** curated by Tracks, Keynotes, high-level panel discussions and Professional Developmental Workshops. Further details will be published in due course.

Conference Chair

Professor Martin Spring, Professor of Operations Management, Lancaster University
Theme
Recovering from Covid: Responsible Management and Reshaping the Economy
In 2021, the 35th Conference and 2nd BAM Conference in the Cloud, will critically engage with the socio-economic recovery from the global Covid-19 pandemic.
Consumers, producers, frontline workers, managers, businesses, public and third sector organisations all have their own roles and responsibilities in transforming our marketised society for the post-pandemic world.
We will critically explore the challenges we all face, aiming to generate relevant, impactful insights into the innovative forms and means of mobilising the collective action that is required if we are to create a productive, flourishing and more inclusive society.
The devastation created by the Covid-19 pandemic presents a unique opportunity for the business and management academy to play its part in addressing the social, technical, economic and environmental disruptions we face. There is a desperate need for responsible management and distributed leadership.
These unique circumstances offer the ability to make a tangible difference beyond the realms of the theoretical and academic, to take chances we might not otherwise have encountered. We call upon our collaborative research community to address the broad range of questions the pandemic and its aftermath have created, to explore how best to reimagine and enable a greener, more sustainable economy, one that levels up the economy, and one that is both inclusive and fairer.
---
*Key dates are subject to minor revisions
**Asynchronous presentations - In addition to live paper presentations, authors will have an opportunity to submit asynchronous presentations (optional)
*** Developmental papers allow authors to receive feedback for further development of their papers and sharing of their research with other participants who share similar interest of research.